Attractive virtual office located in the new polyfunctional building with Its own reception. Reception and representative conference room services and option of stylish bussiness name sign are making this office the best option for the most demanding clients.
We are providing
Establishment of registered office, place of business or contact adress – issuing of property owner consent

Reception services each working day from 9:00AM to 4:00PM.

Receiving, registration and custody of mail, including email or SMS notifications

Answering the calls and recording of the voice messages

On-line mail registration system for administration of mail and resending of packages if requested.

Renting of conference room and reception services each working day from 9AM to 4PM
Order virtual office online
Money back guarantee
When you change your registered office to another adress during prepaid time, we will return you whole unspent reimbursement without any questions and fees.
Owneship of property means stability
The best guarantee of longtime stability of our services is
exclusive ownership of property
where the virtual registred office is provided.
Professional aproach
Our goal is fast,
reliable and cost-effective
service. We are constantly working on improving the quality of our services. We are grateful to hear from the suggestions and comments of our clients that allow us to keep our services at the highest level.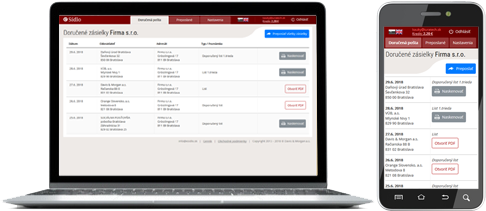 Perfect overview of received mail
Email and SMS notifications, but especially on-line information system to record received mail will ensure that you will never lose any consignment. The system is also optimized for mobile devices.